Get to Know the Upcoming 2021 Ford Mustang Mach-E
The Ford lineup is set to welcome an electrifying newcomer to its ranks! The upcoming 2021 Ford Mustang Mach-E is an all-electric vehicle that blends Ford Mustang performance with technology to help you enjoy a greener driving experience. So, if you're looking for the perfect balance of eco-friendliness and exhilaration in your next vehicle, the Ford Mustang Mach-E can take your driving experience to new heights.
Electric Power at Your Fingertips
The new Ford Mustang Mach-E runs on pure electricity. Running on electric power only means that you don't have to worry about fueling up with gas. No gas means no tailpipe and no emissions, so you can reduce your carbon footprint while you also save on fuel and maintenance costs.
The Ford Mustang Mach-E also offers an estimated driving range of up to 300 miles, which is plenty of power for running errands around town or making long road trips. You can recharge the Ford Mustang Mach-E at home or at a charging station, so it's easy to keep your car powered up and ready to go. When you use a 150kW DC Fast Charger, you can get up to 47 miles of range back in ten minutes so that you can keep the adventure going.
You can even opt for all-wheel drive for extra all-weather capability!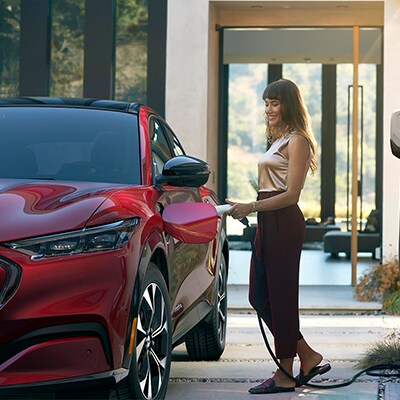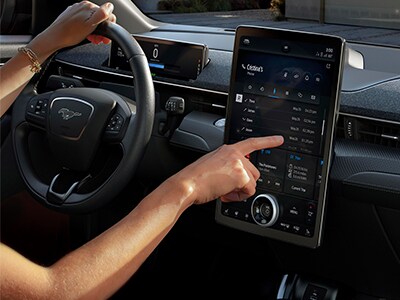 Cutting-Edge Technology
If you're a tech buff, you'll love diving into the robust roster of features that the Mustang Mach-E has available. Between features like the next-generation SYNC® infotainment system with a 15.5-inch touchscreen and a host of driver-aids, you'll find a wide range of top-notch technologies to help you get the most out of your drive.
Contact Us to Learn More
We're eager to share this exciting upcoming model with you, so please feel free to get in touch with us to learn more about the 2021 Ford Mustang Mach-E today!
Reserve Your Mach-E Today!
Hours
Monday

8am-8pm

Tuesday

8am-8pm

Wednesday

8am-8pm

Thursday

8am-8pm

Friday

8am-8pm

Saturday

8am-8pm

Sunday

Closed