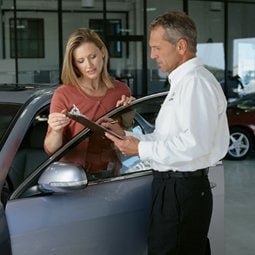 Welcome to the service department here at Team Ford Lincoln! Our highly qualified technicians are here to provide exceptional service in a timely manner. Whether you're visiting for a routine oil change on your 2016 Ford Fusion, or transmission replacements in your pre-owned Ford in Las Vegas, we are here to help. We are dedicated to maintaining top tier customer service here at Team Ford Lincoln and we're sure you'll notice our attention to detail. Allow our staff to demonstrate our commitment to excellence.
Schedule your Ford service appointment online today, or stop by our Ford dealership serving Henderson, NV for more information.
You Can Trust Our Service Team in Las Vegas
The health of your vehicle is of the utmost important for both you and our team, here at Team Ford Lincoln. We want to make sure that, when you are on the road, you are as safe and secure as possible.
That is why our service team is here to assist you, whether you need routine maintenance checkups or something more extensive.
Is Routine Maintenance Important?
Maintenance is akin to visiting your doctor. Going for a routine checkup is important so that your doctor can ensure everything is normal with your health. Additionally, if they do catch something amiss, or if you are feeling unwell, you can visit your doctor to find out what is going on.
The same concept is applied with your vehicle and our service team. Whether there is smoke coming from under your hood, or if you just want to ensure that everything is okay with your vehicle, our team would be more than happy to help you.
Everyone in our service station is handpicked and qualified to help you with your vehicle needs.
If you need service, you can use our hassle-free online tool and schedule a time to see us. Additionally, if you would like to save some money, we have a variety of service coupons that you can use.
Our team also has access to a wide variety of parts; in the event that your vehicle needs a part replaced, we can find it quickly and affordably.
Want to Learn More?
If you would like to learn more information about our service team, or the services we provide, we invite you to visit Team Ford Lincoln in Las Vegas, NV. We would be more than happy to help you find the perfect vehicle for your needs.