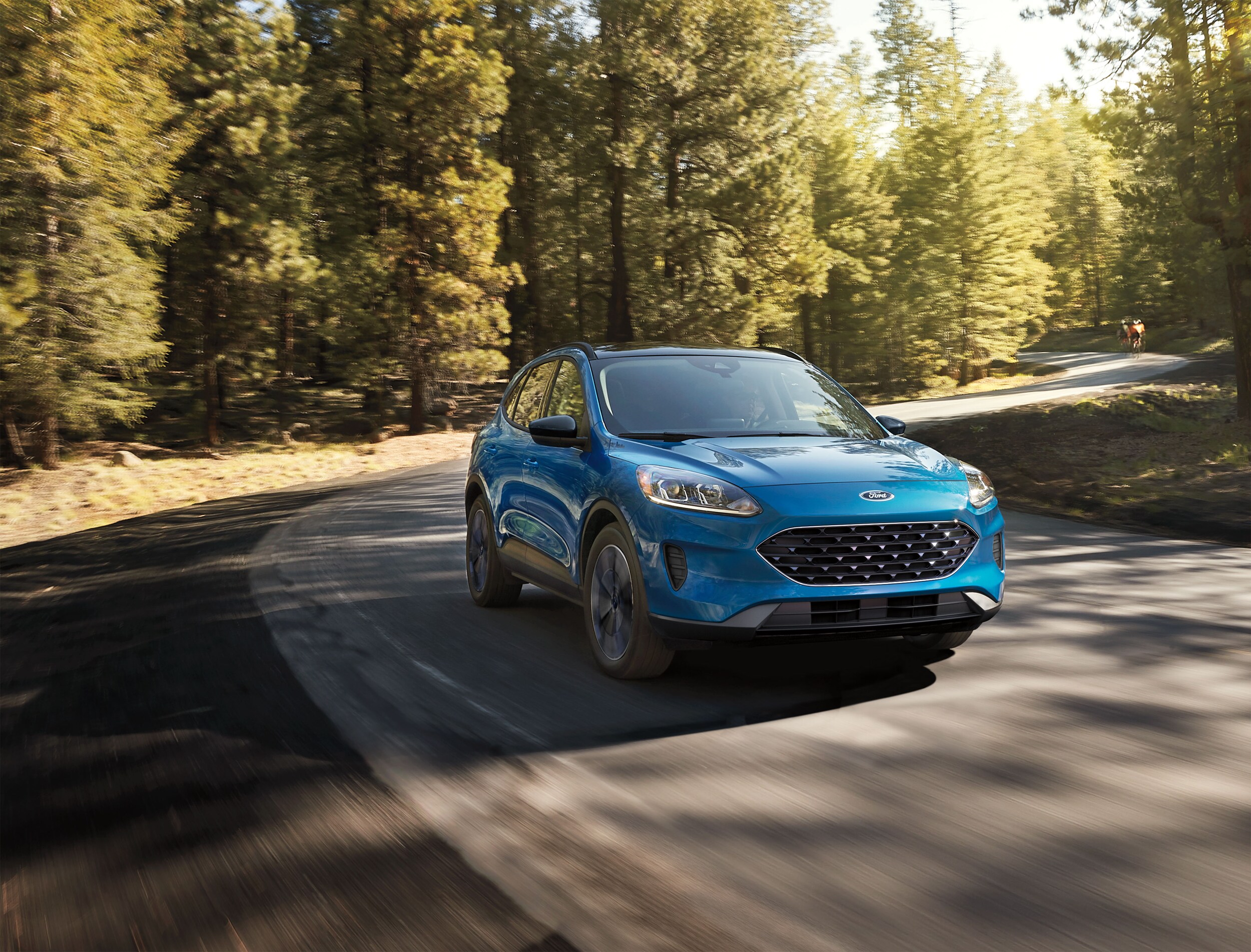 Ford hybrid and electric vehicles offer outstanding performance on top of reduced or zero emissions. We are excited for all the advancements in auto electrification technology that are promising to reduce emissions, save us money at the gas pump and increase the performance of all our vehicles. Electric power is no longer associated with compromising power for efficiency. With continued advancements and improvements to electric engines' range capabilities, an all-electric vehicle future is looking more and more possible. Many of our Las Vegas drivers have questions about electric vehicles and hybrid technology and whether this technology fits their lifestyle. We have compiled the most frequently asked questions here to help you with your research.
Frequently Asked Questions
Q: What is a hybrid?
A: Hybrid engines were some of the first electrified engines to come out. A hybrid engine works by supplementing the gas engine with an electric motor, powered by a battery, integrated into the transmission. The electric motor extends the range of the gas engine by powering many components which work off electricity rather than the combustion engine. The gas engine and the electric motor work seamlessly, and the battery gets charged by the gas engine, so you never have to plug it in.
Q: What is a plug-in hybrid?
A: Plug-in Hybrid engines also use batteries to power the electric motor and has a conventional gas engine. The difference from the regular hybrid is that the electric motor allows you to drive completely off electric power for a limited range before the gas kicks in. In most cases, you can optimize your driving so that you give preference to electric-only driving. You can also plug-in your car to top off the battery before you leave so you can extend the battery life, but your car will still work off the gas engine if your battery gets depleted.
Q: Does an electric engine still have a gas engine for back-up?
A: An all-electric vehicle has no gas engine; it runs completely off an electric engine powered by batteries. Advances in technology have made it possible for electric vehicles to have a longer range so that you can go at least 250-miles off a single charge in most electric vehicles. The range on electric vehicles continues to improve, and it is expected that range anxiety (the worry that you will run out of power during your drive) will be completely solved by 2030. You can charge your all-electric vehicle at home by using a regular wall outlet overnight, or you can upgrade to a Level 2 charger for fast charging speeds similar to public charging stations. You can recharge most electric vehicles up to 80-percent of their capacity in under one hour.
Q: Which Ford models are electric or hybrid?
A: Here is the list of all the new Ford hybrid and electric vehicles:
2021 Mustang Mach-E: the first all-electric Ford SUV with a range of ~300-miles
2020 Fusion Hybrid: a four-door sedan with a combined fuel efficiency rating of 42-miles-per-gallon.
2020 Escape Hybrid: a small SUV with a range of 582-miles on a single charge/tank.
2020 Fusion Plug-in Hybrid: a four-door sedan with the ability to go ~26-miles on the electric engine before the gas kicks in.
2020 Explorer Limited Hybrid: a highly capable SUV with a towing capacity of 5,000-miles and the ability to go more than 500-miles between fill-ups.
Q: With gas being inexpensive right now, is an electrified vehicle even worth it?
A: With electric technology advancing, you'll find that hybrids, plug-in hybrids, and even all-electric vehicles are getting closer to conventional gas engine vehicle pricing. Additionally, electrification is gradually increasing the capability and performance of vehicles, making them even better and more powerful. If you are looking to reduce your emissions, save money at the pump, and be one of the first to own an electrified vehicle, then one of our electrified options might be a great choice for you!
Ask Our Experts at Team Lincoln in Las Vegas
Still have questions? All the new electric vehicle technology is exciting and our team of experts can answer all your questions to help you decide if a hybrid, plug-in hybrid, or electric vehicle is right for you.